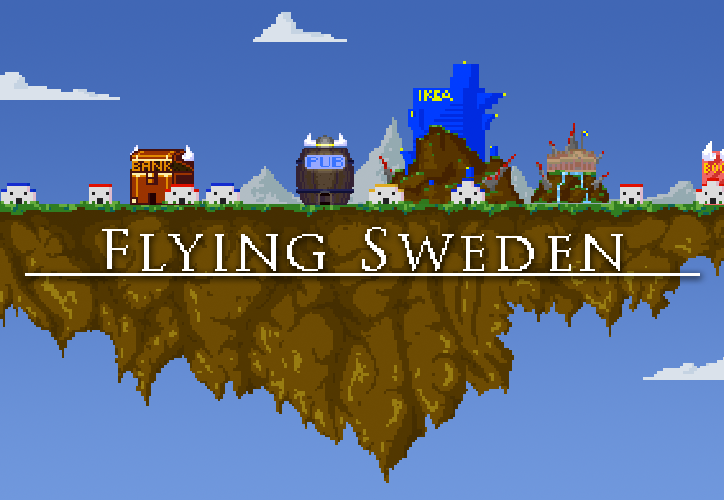 Hello all! I'm a new participant in the uDevGames contest, but have followed it for many years. I, along with my artist TK, are hard at work on this year's entry:
Flying Sweden
. We hope you like it!
About the Game
Take the helm of Sweden, the world's most deadly flying country, and battle for supremacy of the skies!
Flying Sweden combines strategic city building gameplay with fast-paced tower defense combat. Construct and upgrade buildings, gain resources, build larger guns, bolster your defenses and take on the hords of enemies waiting for you in the clouds.
Here are some screenshots:
Lots of buildings!
Sweden fights!
Sweden battles Flying Denmark.
Giant robot battle
Flying Sweden fights Odin in Valhalla
Plenty of things to build!
Development
Flying Sweden is being created in Unity3D Pro 3.4, and will be released on the Mac (of course) and Windows.
The Team
Will Miller (me)
- I'm a professional game designer, and have worked in the industry for several years. I have had the pleasure of working on some really great games, including Guitar Hero II, and Civilization IV. I currently work at Big Huge Games, where I am a systems designer on an open-world RPG called
Reckoning
. I love game jams, and am really excited to be participating in uDevGames this year! Follow
@willrmiller
on Twitter for updates!
David McDonough
I'm also a professional game designer of several years. I started at Firaxis helping to make various Civilization titles before coming to Big Huge to do systems design for our upcoming epic RPG,
Reckoning
. In addition to the occasional game jam, I dabble as a professor teaching game design at the University of Baltimore.
TK
- I'll let TK flesh this one out when he has time, but he's a great artist from Sweden, and I really love working with him. TK works a day job packing massive quantities of fish into boxes, and makes games with me in his spare time.